Prayer
Giving You Jesus
For our light affliction, which is but for a moment, worketh for us a far more exceeding and eternal weight of glory. — 2 Corinthians 4:17
Have you ever specifically prayed for something, only to have the situation get worse? Have you prayed for your health to improve, only to have your condition weaken, then deteriorate further when you have a negative reaction to the medicine you were given? Have you prayed for your job to be more productive, only to lose out on a promotion, then be asked to resign? Have you prayed for your child's well-being, only to have him drop out of school, then learn that he is involved in drugs?
Things got worse for Mary and Martha when they sent word to Jesus in John 11:3, ...Lord, behold, he whom thou lovest is sick. Implied in the message was an urgent request on behalf of their brother Lazarus: "Please come. Do something. Help him. Make our brother well." If they could have heard Jesus' response at the moment He heard their request, they might have been initially encouraged, because when He heard this, Jesus said, "This sickness is not unto death, but for the glory of God, that the Son of God might be glorified thereby."(11:4) The logical assumption would have been that He was promising Lazarus' illness would not become worse…that Lazarus would not die…that God would heal him. Yet not only did Lazarus not get better, things got worse. He did die. When have you prayed and received initial encouragement through a promise from God? Has that promise led to confusion when it not only seems to be unfulfilled, but things get worse?
On August 17, I was diagnosed with breast cancer. Almost immediately, God seemed to give me a promise from James 5:17, Pray for one another that you may be healed . I believed God was promising to heal me in answer to your prayers, even though I didn't know if it would be before surgery, through surgery, using chemotherapy and/or radiation. So my journey of faith began, undergirded by the prayers of many people.
Rather than be healed before the surgery, I went through surgery. Rather than the cancer being contained, it was found in a lymph node. Rather than experiencing minimum side-effects to chemotherapy, I experienced a severe side effect to my second treatment. Rather than stay on schedule, my treatment was delayed for a week, and another chemotherapy infusion added. So…when things get worse, how should you and I respond? With complaints? Self-pity? Fear? Doubt? Or trust… …that God has a greater purpose than our immediate comfort. …that getting what we want, when we want it, is not always for our good or His glory. …that our faith is of more value than our physical health. …that His strength will be sufficient for each moment of each day. …that His blessings will outweigh any trial. In this New Year—when things get worse—let's choose to lay our expectations down and trust God alone. Period. For the glory of His Name...
Anne Graham Lotz www.annegrahamlotz.org
Pray for America
Dear Friends Praying for America,
I believe America needs prayer this month. Right now, determine to be faithful to pray for our nation during February.
Please share these requests with anyone who loves America.
People are hurting in America. Let's pray for divine intervention in the present governmental crisis in America. Are you ready to go to God in prayer? Prioritize these requests during February.
Now is the Time to Lead and to Pray for America,
Ronnie W. Floyd
1. Ask God to lead our president and members of both houses of Congress to find a way to work together and avoid another shutdown of the American government.
"And seek the peace of the city whither I have caused you to be carried away captives, and pray unto the LORD for it: for in the peace thereof shall ye have peace." Jeremiah 29:7
Sovereign God, please guide the heart of the president and members of both houses of Congress to come together to find a common resolution for the border crisis and funding of the United States government.
Holy Spirit, would You build within the president and members of Congress a spirit of humility, respect for one another, a spirit of understanding, and a determination to cooperate for the common good of America.
Our Father in Heaven, would you bring peace within the relationships among the members of Congress and the president and his entire team so they can reach a solution to this crisis by February 15.
May each person seek the peace and prosperity of America, knowing when they do, each of them prospers.
God our Provider, please take care of the many government workers and their families who endured a financial setback during the most recent shutdown of the government.
2. Call out to God for families, workplaces, communities, and cities in America to love one another.
"Beloved, let us love one another: for love is of God; and every one that loveth is born of God, and knoweth God." 1 John 4:7
When we belong to Jesus, we belong to love; therefore, call upon God for families, workplaces, communities, and cities in America to know that love is always God's way.
Call families, workplaces, communities, and cities to look to God, who is love, so they can experience the transforming power of love.
Ask God for America's families, workplaces, communities, and cities to begin to choose love and forgiveness, love and restitution, love and healing, love and unity, and a future transformed by the power of unconditional love.
Ask God to raise up a Love One Another movement across America.
3. Appeal to God to mobilize leaders of towns and cities, as well as leaders of churches, businesses, schools, and denominations to have a prayer observance for America on Thursday, May 2, 2019.
"And a new commandment I give unto you, That ye love one another; as I have loved you, that ye also love one another." John 13:34
Lord, we call upon You to mobilize leaders of towns and cities, as well as leaders of churches, businesses, schools, and denominations to have a prayer observance on the National Day of Prayer and focus on the theme LOVE ONE ANOTHER.
Oh God, we ask You to create and build a mighty force of volunteers across the country to do all they can to insure we have thousands of prayer observances across America in all kinds of settings on the National Day of Prayer.
Holy Spirit, lead Dr. Ronnie Floyd, President of the National Day of Prayer Task Force, as well as all of the staff and volunteers to do what they can to lead this national prayer movement to pray for America.
National Day of Prayer Task Force
PO Box 64225, Colorado Springs, CO 80962, United States
Summary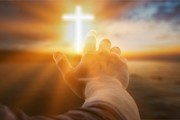 a Clear Challenge for 2019
As we enter the new year, please be encouraged to consider a challenge.
I believe the pastor should lead the people of God to seek the Lord seriously. 1 Peter 4:7 says, "But the end of all things is at hand: be ye therefore sober, and watch unto prayer."As we look at the world around us, we must resolve to take our spiritual lives and prayer life seriously.
A Clear Challenge
Begin each year with 21 consecutive days of focused prayer. We ask everyone in our congregation to participate, and even fast if you are called and able. We ask everyone to pray for their own spiritual life and development, our church, and our nation.
During the year 2019, we ask everyone to focus on specific things which involve us personally and the church as a whole:
• Your greatest personal burden (in one sentence)
• Someone who does not know Jesus Christ personally
• Elimination of personal indebtedness
• Anything on your heart about life and the future
As we go on this journey individually and as a church, pray specifically for our spiritual lives for 21 days in a row. God will take us to a new level of faith-based living as individuals and as a church.
An Attainable Goal
Making this a win for everyone helps people interact. Think about it this way: What could God do with your life if you focused on your spiritual life for 21 days in a row? What could God do with your church if your regular attenders pray specifically for your church for 21 days in a row? What could God do with our nation if we pray specifically along with thousands of other believers at other churches who are also praying? Everyone can pray. Everyone can participate.
Challenge parishioners to take their commitment to the next level by fasting from something during this time. It could be television, social media, one meal a day, or something else God has brought to their attention. The point is to use the time gained to seek the Lord.
Our ultimate challenge is this: Find the level of commitment God has called you to and go on His journey. Everyone can find some level of commitment. This is not about legalism, but about focusing on our spiritual lives, individually and corporately. The goal is for everyone to spend these 21 days taking their spiritual lives seriously enough to go on a new journey with God.
Beyond 21 Days
Beyond the 21 days of focused prayer, we are encouraging people to read the Bible over the upcoming year. Ultimately, the goal is to encourage people to read the Word of God daily. The important thing is to encourage folks from the pulpit, even read passages and explain what the Lord is saying through these passages.
Walk in Expectation
Many times, we do not walk in expectation. Journeys of faith require that we walk in expectation for what the Lord wants to do with, and through, our lives.
Expect great things in your life, the lives of your fellow congregants, and the Christian church as a whole. Look forward to seeing the Lord do some powerful things in our midst. If we expect the Lord to do great things, then we will open our eyes to see what great things the Lord does.
Pastors, live your God-given life, operate your God-given ministry, and lead your God-given church to expect great things as you seek the Lord.
Finally: Commit to leading God's church to a new level in a strong way in 2019.
Now is the Time to Pray, Ronnie W. Floyd
National Day of Prayer Task Force, PO Box 64225, Colorado Springs, CO 80962, United States
January 2019 Prayer Priorities
3 Prayer Priorities in January 2019
Oh God, may You begin to raise up a Love One Another movement across the United States of America that forwards and advances Jesus' words to: Love One Another.

John 13:34 "A new commandment I give unto you, that ye love one another; as I have loved you, that ye also love one another."

Our Heavenly Father, we pray to be used by You to build up America by blessing and adding value to each town and city in our nation.

Proverbs 11:11 "By the blessing of the upright the city is exalted: but it is overthrown by the mouth of the wicked."

Lord, we ask You to be with the leaders in our local, state and national government as they work and make decisions together for the good of our nation.
Are we able to love one another as Christ loved us? Are we willing to sacrifice our own life for someone else? Do we literally and unconditionally care so much for others that we will allow ourselves to take advantage of and physically hurt us? Or, does loving others as Jesus Christ loves them mean that we begin seeing others as God sees them?
In all things pray that God would allow His Holy Spirit to move in our lives and increase our knowledge and understanding of His will concerning us. In order for us to "Love One Another" we must love God and cherish the relationship we have with the Triune God (Father, Son and Holy Spirit).
Summary
Billy Graham Christmas
And the angel said unto them, "Fear not: for, behold,
I bring you good tidings of great joy, which shall be to all people.
For unto you is born this day in the city of David
a Saviour, which is Christ the Lord." —Luke 2:10–11
Dear Friend,
It has been almost a year since my father passed away. This is our family's first Christmas without him, and to be honest, it is sad, as it is for everyone who has lost loved ones. But the joy we have is knowing that my father is with the Author of Christmas.
He's with God, who designed the plan to send His Son to earth to be born of a virgin. When He was born, He was placed in a manger because there was no room in the inn. This is how Jesus came—it was the most humble of beginnings. Then He died on a cross with common criminals to pay the penalty for our sins. That was His purpose from birth, and it's the reason for Christmas.
When I was a child, it was a tradition to gather around my father near the fireplace and listen while he read the Christmas story. I remember sitting on his lap, or sometimes my mother's lap, as my father opened his Bible to read about Jesus' birth.
Jane Austin and I did the same thing with our children, and now our children are doing it with their children, passing down the tradition of Christmas. It is a time of looking back at what God has done and looking forward to what He will do in the hearts and lives of everyone who will trust Him.
This Christmas we rejoice and praise God that my father was given the privilege of preaching the Gospel to more people face to face than any other person in history. But the job isn't finished. We have another generation who needs to hear this wonderful message.
Pray for Anne Graham Lotz
My sister Anne Graham Lotz is battling cancer and has had to cancel her speaking and ministry plans for the next year. The treatments are hard on her, but she has good doctors and the will to fight, and her heart is firmly anchored in the Lord. Will you pray for her?
Thank You
Together, we work hard to reach lost people with the life-changing message of the Gospel, using every effective means available to us. We count on your prayers as well as your financial support—thank you for your partnership. Your year-end gift this month will help us reach many more people with the hope of the Good News of Jesus Christ, whose birth we celebrate because He is our Savior and Lord.
Have a wonderful Christmas,

Franklin Graham, President
Billy Graham Evangelistic Association
1 Billy Graham Parkway, Charlotte, NC 28201
Local: 704-401-2432
Toll Free: 1-877-247-2426
BGEA is a registered 501(c)(3) non-profit organization.
Summary
How Important is Prayer to You?
Why should it take a bad diagnosis, a major business loss, or a big problem to move prayer up in our daily action plan? How important is prayer to you?
I believe now is the time to find a way to bring prayer back into our personal lives.
3 Things That Happen When We Pray
1. We are depending on God.
When we do not pray, we are depending on ourselves.
Pray like it really matters in your life. Pray daily. Pray continually.
Bring prayer back into your life.
2. We are walking in faith.
Praying is faith. When we pray, we are declaring absolute dependence on the Lord and walking by faith in God alone.
When we pray, we are trusting in the Lord completely. When we pray with another person, our faith increases. So, does our expectancy.
3. We are acting upon God's Word.
When we pray anywhere about anything, we are acting upon God's Word.
That is why prayer is our greatest action. But always remember, prayer moves us to action.
This Is Why ---
We pray because we depend on God.
We pray because we want to walk by faith.
We pray because we are acting upon God's Word.
Is prayer important enough to you to do it daily?
Now is the Time to Lead, Dr. Ronnie Floyd,
National Day of Prayer Task Force
PO Box 64225, Colorado Springs, CO 80962, United States